I'm working on a painting for a wonderful couple in the San Fran area. They own two other paintings of mine and this will be a beautiful addition. In the quiet of my thoughts, with every brush stroke, I am reflecting on our love of art, our need for art and how it is so analogous to life:


1- A great painting is always wonderful no matter how many years go by. The beauty of every brush stroke shines through regardless of age. I think that is true of people also, it doesn't matter the age, that true beauty is everlasting, the good, the pure, it stays in those eyes. Maybe with that thought, the reverse is also true, but that is a debate for another day.


2- When you truly fall in love with a painting, like a first great love, that love affair never ends. I still remember the day I first stood a foot away from Van Gogh's Irises at the Getty Museum. It touched my heart in a way I can never explain. No matter how many years go by, I still feel a tender love for that piece. Van Gogh painted it soon after he entered the asylum at Saint Paul-de-Mausole in Saint-Remy-de-Provence, France. He felt that if he kept painting, he could hang onto his sanity...which leads me to my 3rd thought.
3- For most of us, life is a plethora of ups and downs. If you have the wisdom of age, you can be sure that no matter where you are in life, the tide will eventually turn and you will find
yourself reveling in the joy....or....praying that you can hang on for another day. To create, no matter what your medium, is to be connected to the world around you. I read a quote that said, "to cry is a sign that you are still alive", but I say that "to create art is a sign that you are still alive and you are still strong".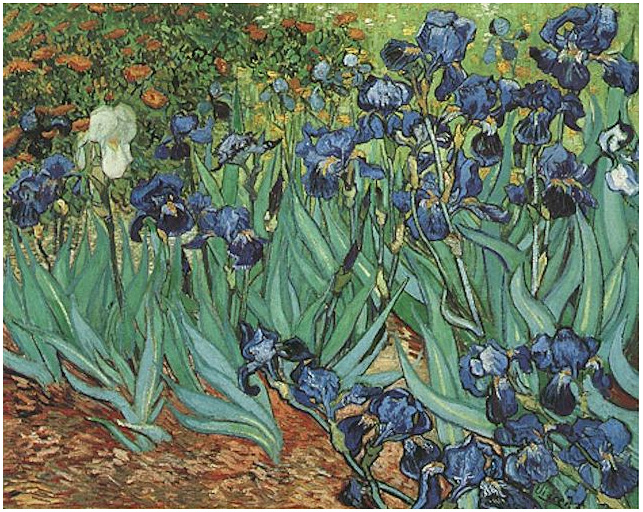 Quote of the Day: "And above all, watch with glittering eyes the whole world about you because the greatest secrets are always hidden in the most unlikely places. Those who don't believe in magic will never find it" ~ Roald Dahl
Song of the Day: "Iris" ~ Goo Goo Dolls